A forested path leads you to an open with a white picket fence. Parked in the middle of this, is a surprise that is the Mahindra Bolero, standing out of the blue on mountain top. Opening the gate leads you to a magical room.
The doors of a Mahindra Bolero SUV open into a secret utopian space. Only it is not an illusion, but a reality. The wish granting Egyptian genie welcomes you as you climb down the steps and is always there by your side to listen to you.
The home has a cob sculpted bed with bedside table in the shape of a ship. The music of the stream cradles you into a carefree sleep and the sound of forest birds wake you up every morning. The tiny slit window towards the north hugs the bedside and lets you peep into the forest outside.
The south facing window brings in all the warmth needed. The Bay window workstation faces the jungle and pulls in all the inspiration you might need.
The attached bathroom is like a capsule of nature in itself with a huge rock bench right under the rain shower for you to sit on and be the queen. The window from the bathrooms doubles up as a door leading you to a private lawn and further up the living roof overlooking the perennial stream below.
Put your tea to boil on the hot plate, and as it gets ready, curl into the reading cave.
The doors to each of our enchanted homes are open now. Come, experience the magic of living in a one-of-a-kind, hand sculpted, mud home.
stay with us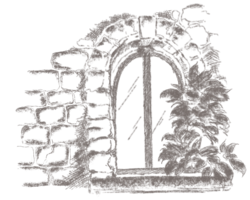 05 Days
Foundation & Plinth
Dry Stone masonry foundation, over an un-leveled ground and hence varying from 1/2 feet to 3 feet as per the ground level.
30 Days
Wall
Cob wall with thickness varying along its horizontal plane, starting from 10 inches to 4 feet thick around the window seat.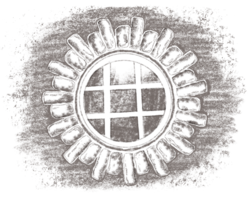 15 Days
Plaster
Plaster comprises a mix of clay, site soil, cow dung and lime. It is burnished with crystals for smooth silky finish, and to absorb the energy of the crystals itself. The bathroom is finished with 3 coats of lime and sand plaster.
07 Days
Doors & Windows
The frames are made out of round eucalyptus, while the shutters are made out of Pinewood with hand carved oak lintels.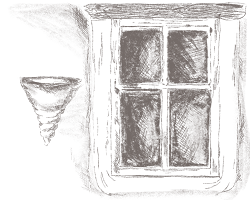 05 Days
Roof
Living roof has a 3 inch layer of mud and a grass lawn, gravel and lime front patio with white picket fence.
10 Days
Flooring
Cord wood flooring with lime and saw dust grouting and linseed oil polishing. The bathroom uses local river stone with cement mortar.
Cob Homes Around the World