WELCOME HOME
Where beautiful homes, dazzling moonlight, and furry friends are your hosts.
Geeli Mitti Farms – Long after we are gone, we want to leave a permanent change in the way we humans currently live. That's why we are building everything for the next few centuries – the homes as well as the relationships with friends. Our natural homes are flood proof, fire proof, earthquake proof, and even bullet proof that aliens will excavate 3000 years from now – still intact. While the modern concrete may rot away, our houses will stand.
See More
KARYASHALA
Upcoming Workshops and Learning Opportunities
Meet the Team
Spell casters of Geeli Mitti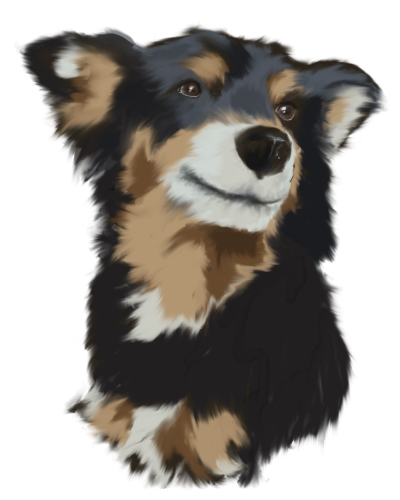 Kunwar Singh
CEO (Chief Everything Officer)
The most humble leader you will ever meet, he takes care of each and every member at Geeli Mitti and always remains approachable. You will see him walking around the campus silently supervising everyone.
Dayal Chandra
Warden
He is the most senior member at Geeli Mitti who we call when things fall apart. Our go-to person has a quick solution to everything and ensures that Geeli Mitti is always up and running in great shape.
Bella Tokri
Fitness Incharge
This beauty with dual colored eyes is the Houdini of the husky world. She detests slackers and never takes no for an answer from them. She will remain persistent and will keep you on your toes to keep you fit.
Ram Awtar
Wizard of Butterflies & Birds
Ram Awtar is super cool character who weaves masterpieces out of plant seeds. He is a wizard of the world of insects, butterflies, birds, animals, and plants. We secretly believe he even talks to them when no one is watching.
Testimonials
What our clients say about us
Words don't do justice to this place but I shall try. Geeli mitti is just not a place, it is an experience, a magical feeling. It is very scenic and serene. Shagun and her team are extremely compassionate and kindest humans. They go above and beyond to make you feel comfortable. They create the perfect atmosphere for everyone to thrive, irrespective of your religious, political beliefs, lifestyles or eating habits. I am grateful to have attended a 19 day workshop and having spent 25 odd days at Geeli Mitti. One of the best times of my life. It was an enlightening experience. Of course, I learnt oodles of new things but it was more about "Unlearning" my past conditioning as an architect and rediscovering my building instincts as a human. Apart from learning the nuances of building with mud, I was awestruck by the way of teaching. It was crisp, entertaining and fun. Geeli Mitti is like a fountain of knowledge, the more you want to learn, the more they will put effort to satiate your thirst and answer your queries. I came back with loads of beautiful memories, new friendships and a lot of confidence to embark on my journey. Never think twice about attending a workshop. Just go, you won't be disappointed.
The place is gorgeous and stunning! I was never as connected and in tune with nature as here at the farm. The place itself, the village and its people are kind, lovely and fun! All day long you can hear the calming rushing of the stream right next to the land. Plenty of beautiful Birds, butterflies, and other wildlife (e.g. civet cat) were visiting. I was volunteering for about 7 weeks during the monsoon. We were mainly busy with finishing touches of the amazing natural buildings on-site like plastering, rubbing and oiling walls, and cleaning wooden parts. We also mixed mud, chopped grass, cleaned up things, prepared vegetable beds, dug, foraged wooden logs from the jungle for firewood, researched plant IDs & hosted one of their amazing workshops.
The stars aligned in the most magnificent way to send your soul as a natural building saviour into the world. Never have we seen such dedication and love for one's work. Your compassion for the universe is admirable. Strong, independent, level headed, crazy, charming, funny, calm..the list goes on. We must have done something right to come for the workshop and live here in the forest during the lockdown. May you make a difference in billions of lives & achieve each of your dreams. Wishing you limitless strength and patience to endure what you must to become what you aspire. Geeli mitti will always always hold a special place since we are rishtedaar now that our dog (basanti) is married to Kunwar Singh, CEO of Geeli Mitti. Love x sam, tara & basanti
I'm back in Delhi with no hills to walk up and down and no cob to stomp. Yes, I'm missing Geeli Mitti. Although I was there for less than ten days, it was an experience that will stay with me forever. To find peace in the simple pleasures of life, to find joy in working with one's hands (and feet), to know that one is learning something that can make a difference, to make new friends, to share stories, to laugh and to just be happy - that's what my time at Geeli Mitti gave me. What Shagun, the force of nature behind Geeli Mitti, is doing is pretty incredible; in a world that has far too much wrong with it, it is heartening to see someone doing something that is so right. And doing it in a way that is accessible, that invites others to share her knowledge and passion, and perhaps most importantly, doing it without turning into a stuffy crusader who loses a sense of fun and humour. This was my first experience at Geeli Mitti, but it won't be my last 🙂
Geeli Mitti taught me about sustainability, self-sufficiency and self/ bio-construction and I found Shagun, a strong, knowledgeable woman, who is creating beautiful possibilities in her society. I also found a beautiful village in the Himalayas, amazing local workers and wonderful volunteers. It was one great month and a half & for sure one of the deepest experiences I ever had. Geeli Mitti brought me my life partner, my little doggy, Momo. I still remember that old man with his grandson bringing Momo to me after a 5 hour walk in the mountains from where his home was. I can't forget that strong but beautiful smell of cows & the mountain air on Momo. Now, back in Spain, I'm trying to make my space on a piece of land in the forest together with Lolo, my friend and Momo to bring back some essence of Gelli Mitti. It's as hard as thrilling. I have some fears about starting from zero but on the other hand I am so excited and full of hope.
How to reach us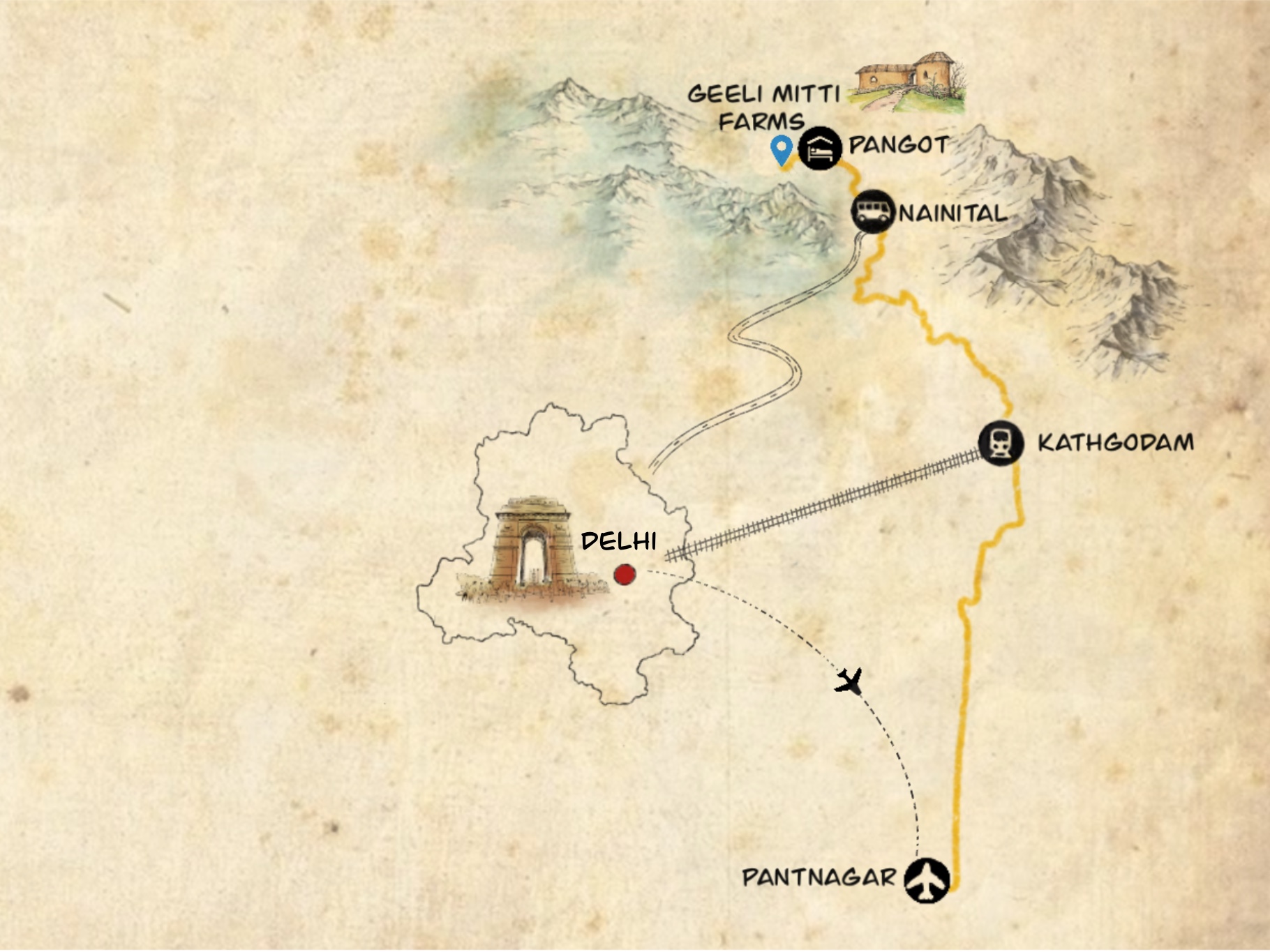 Address
Geeli Mitti Farms
Mahrora Village, Pangot P.O.
Nainital, Uttarakhand, India
Pincode- 263002
what to pack
To pack efficiently for your visit, consider three things: objective of the visit, weather and Geeli Mitti ethos.
Weather
There is no best or worst time to visit Geeli Mitti. Every season brings its own colors which paints the landscape from deep green in the monsoon to red with rhododendrons in March.
atithi devo bhavah
We strongly stand by the ancient philosophy of "Guest is God". As a sense of responsibility towards our guests, we offer to you all that we have: knowledge, beauty, love, respect. We only hope that you do the same and take care of this space as your own. Each creation here (earthen, human or animal) is an equation of love and it's important to us that you value it as much as we do.