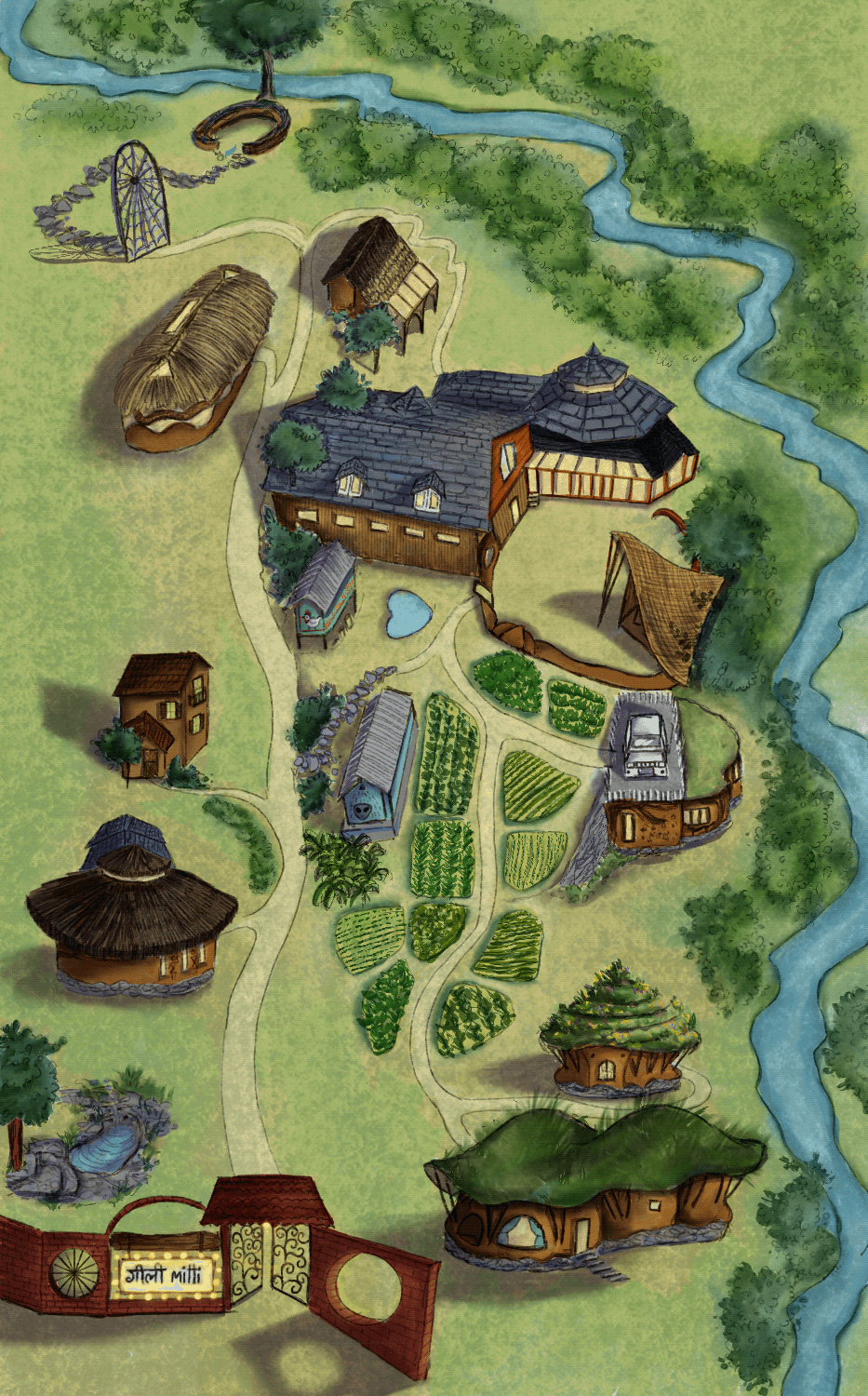 GEELI MITTI CoE
Center of Excellence for Sustainable Living and Ecological Habitat Design
Nestled within the pristine Naina Devi Bird Conservation Reserve in Nainital, Uttarakhand and surrounded by lush oak forests all around, the Geeli Mitti CoE is a uniquely envisioned and all-encompassing demonstration farm like no other. Whether you reside in an urban apartment, a countryside farmhouse or a rented space or possess land or a small backyard, our Centre provides a one-stop destination for anyone looking to tread on the journey of sustainable living. Our centre serves as a guiding beacon, demonstrating permaculture systems, diverse natural building techniques, and innovative solutions for water, energy, and waste management, allowing you to learn, understand and experience all that you need first-hand, and tailor them to your own individual needs and environment once you return.
The CoE doubles as a reputed research and training institute, offering internationally acclaimed certification courses in permaculture design, natural building, arts and crafts, and sustainable living. The centre also specialises in custom curating study tours for educational institutions, wellness retreats, corporate off-sites, and eco-friendly events and get-togethers.
To enroll in our upcoming specialised courses, click here.
For booking a custom workshop or event, download our brochure here and then contact us.
Most people who want to build sustainably struggle with two things – right guidance and quality materials. The natural building industry is unorganised, which might be good in some ways but it also means there is no repository for sourcing or evaluation benchmark. Moreover, the demand far outstrips the supply today, thanks to actually organisations like us. As veterans in this space, having trained professionals and dealt with multiple vendors, we serve as a bridge between those seeking help and tried and tested vendors and professionals. Some of the services we provide include:
Overall business and project consultancy
Architectural design services
Permaculture design of land including pond and water systems
High quality material sourcing (such as adobe, lime, plasters etc.)
The Geeli Mitti Foundation endeavours to foster sustainable livelihoods for marginalised communities in both rural and urban areas, that goes hand in hand with ecological preservation. Some of our major initiatives are in the areas of:
Afforestation: Tree plantation drives in collaboration with Corporates and with active community participation.
Skills Training: We set-up and run skill training centres that offer education and employment opportunities in diverse fields such as stitching, fruit processing, computer literacy, electrical work, plumbing, carpentry, and local crafts.
Water Management: We undertake eco-projects in collaboration with governments and local administrations such as lake restorations, groundwater recharge and water recycling systems.
The hospitality and tourism industry today has unfortunately come to mean environmental degradation, with huge amounts of waste being generated and excessive misuse of water and energy. Recognising the importance of tourism as a livelihood for rural communities, prompted us to conceptualise, design and build eco-tourism projects that protect and preserve local culture, architectural heritage and natural resources of eco-sensitive regions, while generating income and livelihood for local communities. Our properties are either run by the local community or privately run by Tales2Live, a sister concern of Geeli Mitti. For more details, please visit:
Tales2Live Hospitality services
We conceptualised a unique concept of animal sanctuary that would be financially self sustainable and serve a larger humanitarian objective in society to foster love and compassion. We then designed and built these sanctuaries – a getaway from the city where adults and children can spend time in nature; and a safe and loving home for rescued and abandoned animals in need of shelter. Here, one can host eco-friendly birthdays and gatherings and unwind in open green spaces, while also interacting with all kinds of rescued animals (camel, horse, donkey, goat, sheep, duck, geese, rabbit, guinea pig, chicken). The funds generated go back into animal rescues and sterilisations. Two successful projects you can visit and know more about are: