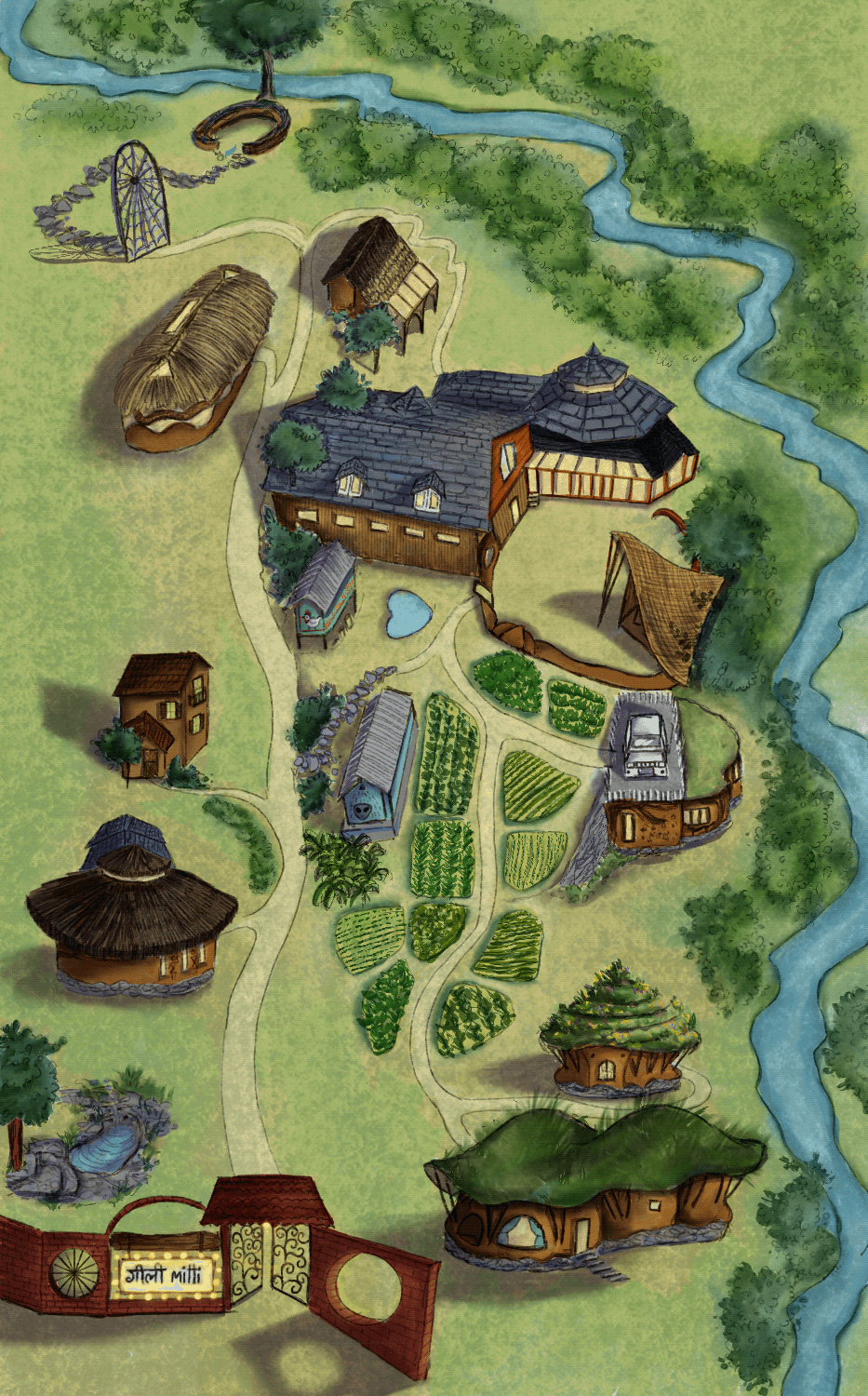 WELCOME HOME
Where beautiful homes, dazzling moonlight, and furry friends are your hosts.
Long after we are gone, we want to leave a permanent change in the way we humans currently live. That's why we are building everything for the next few centuries – the homes as well as the relationships with friends. Our natural homes are flood proof, fire proof, earthquake proof, and even bullet proof that aliens will excavate 3000 years from now – still intact. While the modern concrete may rot away, our houses will stand.
We like to touch, smell, taste, and feel each material that we use for building, binding, plastering, and painting – and yes, we haven't dropped dead. But while doing so we have definitely explored and implemented natural building techniques successfully.
We believe that everything that we build is a living thing which feels, listens, and sees us – and no, we don't want to freak you out. So, we want to give the homes the right energy of love and compassion.
That's why during our building workshops, we have been in euphoria to outright madness and everything in between. When you are with us, you end up discovering the most eccentric, weird, and interesting traits about yourself. We have seen people become expert singers, dancers, and builders overnight – literally!
To reach us, you have to cross two streams and village trails while experiencing the noise of the outside world slowly fade away. Our campus is in the middle of nowhere, which is exactly the way we wanted it to be. This makes it easy for our butterfly, bird, and four legged/ hundred legged friends to hang around uninterrupted – sometimes even talk to us.
our initiatives
Sustainability, Ethics, and Quality – In Action
Geeli Mitti continues to research, innovate and expand into areas that help enhance the quality of one's life and thought. Each project is backed with strategic thought and is in collaboration with the right resources to help human, animals, and plants. Rather than reinventing the wheel, we extract knowledge from our traditional wisdom and live together with all other forms of life. All our initiatives are based on these values.
Years of misleading media and information has made the unacceptable – acceptable. It is the way we build, live, eat, travel, work, or seek entertainment. It is time to make thoughtful choices in the way we spend our time, energy, and money. It is our current choices that maketh our future world.